The Dog Page
Henry Arthur Mahoney, the first and only Golden Rhodesiador
(Doing his job, as usual, but just try to get the paper without paying him for it. He trained himself to get the paper and does it every single day like clockwork, also charity collection bags from the fence and even old papers from our recycling box; and he expects his "treat" payment for each one)
Our handy helpful dog links are at the bottom of the page.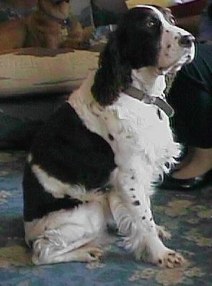 Elizabeth Teresa Mahoney, 8 year old springer spaniel with hip dysplasia and about 1,000,000 allergies
(She has no job other than "official greeter". Everyone is her friend. She does exactly as she pleases 24/7).
Here are some of our good friends whose owners work at San Bernardino County Medical Center: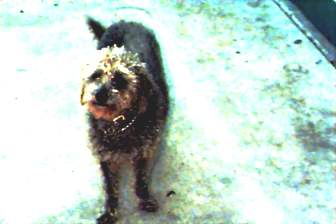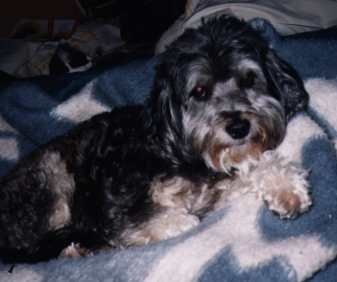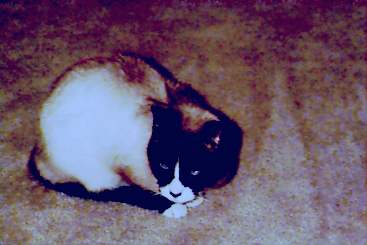 Connie Apodaca (terrier mix-stray), Bogie Baker (cockapoo-pound pup), Roxanne Apodaca (#1 kitty)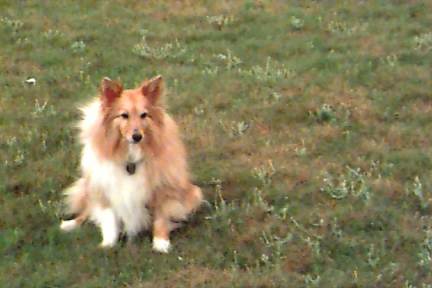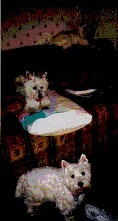 This is Cassie (the Wonder Dog) Proffitt and the Seifert Westies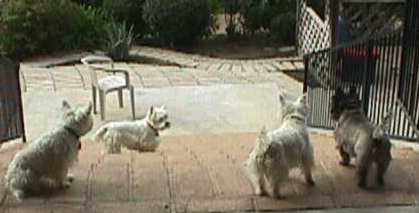 More Seifert Westies; Angus and Laila on the sofa (yes, they get to romp on the sofa, as all dogs should)
and the four westies on the patio.

First rule of dog-owning: a dog will not protect territory if it is not his to protect. So if you want a good watch dog, he must live in the house.
Second rule: your dog has a right to have a home. If you want to keep a dog, be prepared to share yours with him. Would you like to spend all day tied up? by yourself? (when we place dogs or cats through our classifieds, prospective owners must pass a strict screening process.) Remember, it is a privilege, not a right, to own an animal.

Since there are so many unwanted dogs, we believe it is better to take in a stray or a pound animal; also, remember that due to overbreeding and inbreeding, purebred dogs are much more susceptible to autoimmune diseases and deformity syndromes.
---
Doggie Links
Doggie health problem? Look at the canine health net.
General dog questions: Check out the Owners' Guide.
For general help and pet information, the Australian page for Petnet covers many subjects.
For help in dealing with elderly dogs, check the "old friends" page.
How to choose the right pet; on this page you can even advertise for the breed you want.
This link is a comprehensive list of dog-related web sites that may be helpful to you.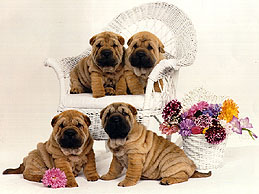 And here for your viewing pleasure are 4 Sharpeis taken from "Tuck'n'Roll Acres" at bizwizard.com.
This page under construction. Lots more later. Last updated 12-29-97 by Dragonlady
---
This page hosted by Tripod.

Home

E mail us